Dettagli

Scritto da

Simone Zimmerman

Categoria: Dissidenza ebraica
Haaretz, Jun 29, 2017
Absurd and obscene: Silent on the occupation, US Jews howl about their own victimhood: Israeli Border Policeman at the Western Wall. 25 February
It is obscene that on the fiftieth anniversary of the occupation, as a quarter of a million West Bank Palestinians were denied entry to Jerusalem to pray and to celebrate during Ramadan, and as Palestinians in Gaza observed their fast and celebrations in the dark, with barely enough clean drinking water or electricity to survive, American Jewish leaders are upset that they can't just drop in for a visit and close a backroom deal with the prime minister.

Leggi tutto: It's Only About Them: U.S. Jews' Outrage on the Wall, Silence on the Occupation Is Obscene
Dettagli

Scritto da

Rete ebrei contro l'occupazione, Associazione per i diritti umani www.peridirittiumani.com

Categoria: Rete-ECO
28 giugno 2017
Gent. dott. Santoro, nella sua trasmissione di giovedì 22 giugno molti dei suoi ospiti si sono scandalizzati quando un giovane di origine marocchina, presente fra il pubblico in studio, ha affermato che quello in atto da anni contro i palestinesi è un genocidio. Forse il giovane ha usato un termine improprio anche se la definizione di "genocidio", coniata dalle Nazioni Unite nel '48, gli darebbe ragione. Tuttavia non ci interessa in questo momento soffermarci a polemizzare su un termine quanto, purtroppo, riaccendere la sua attenzione, e quella del suo pubblico, su quanto sta succedendo ancora una volta a Gaza, preda di una gravissima crisi provocata dal taglio di energia da parte di Israele, suo maggiore erogatore.
Dettagli

Scritto da

Ori Weisberg

Categoria: Dissidenza ebraica
Haaretz, May 31, 2017
Suddenly, my left arm was wrenched behind me, wrist twisted, and pushed so high that my fingers were above my left shoulder blade. My hat came off and I screamed in pain. As a veteran of a combat unit, I am familiar with pain. But I could not tell if my shoulder was still in its socket or if my arm was breaking.

Leggi tutto: For Jerusalem's Police, Jews Defending Palestinians Are Human 'Garbage'
Dettagli

Scritto da

Rete-ECO

Categoria: Rete-ECO
23 giugno 2017
Il "Rapporto sull'antisemitismo in Italia nel 2016", pubblicato dall'Osservatorio antisemitismo del CDEC, è una lettura non facile che fa riflettere. Ciò non solo per la descrizione di episodi antiebraici che purtroppo persistono in Italia, ma anche per i pregiudizi e le generalizzazioni che il testo stesso esprime nei confronti di chi critica lo Stato di Israele e l'ideologia politica del sionismo, e soprattutto nei confronti di chi sostiene la strategia politica del boicottaggio, disinvestimento e sanzioni (BDS).
Leggi tutto: Commento sul rapporto 'Antisemitismo 2016' del CDEC
Dettagli

Scritto da

David Rosenberg

Categoria: Dissidenza ebraica
Jews for Justice for Palestinians, April 20th, 2017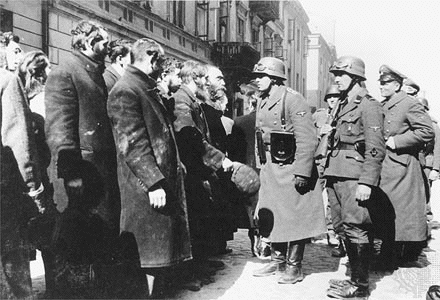 One of the most famous pictures of the Holocaust. German storm troopers force Warsaw ghetto dwellers of all ages to move, hands up, during the Warsaw Ghetto Uprising, April 1943
"We fought for dignity and freedom, not for territory, not for a national identity"
Rebel Notes
April 18, 2017
Before you go to sleep tonight, take a few moments to reflect on what happened in Warsaw in the early hours of 19 April 1943. That was when troops and tanks of the most powerfully equipped army in the world – the German Nazis – entered the Warsaw Ghetto to burn the ghetto buildings to the ground, massacre the remaining inhabitants, or deport them to death camps. At one time the ghetto, comprising just 1.3 square miles, had held more than 400,000 people – almost all Jews, but also several hundred Roma Gypsies. By April 1943 the inhabitants still numbered 30-40,000 – starved, diseased, beaten – but still holding on to life, just.
Sottocategorie