Détails

Écrit par

Super User

Catégorie : Jewish Voice for Peace
July 17th, 2018
Contact: Sonya E Meyerson-Knox | Cette adresse e-mail est protégée contre les robots spammeurs. Vous devez activer le JavaScript pour la visualiser. | 929-290-0317
Jewish Voice for Peace proud to stand in global solidarity against harmful definition of antisemitism and with human rights and freedom to protest
 From South Africa to Sweden, New Zealand to Germany to Brazil, for the first time ever came together in a condemning attempts to stifle criticism of Israel. The statement warns of a growing trend of legislative campaigns to target organizations that support Palestinian rights, particularly the nonviolent Boycott, Divestment and Sanctions (BDS) movement.
Lire la suite : First ever: Over 30 Jewish groups worldwide oppose equating antisemitism with criticism of Israel
Détails

Écrit par

Noa Landau and Allison Kaplan Sommer

Catégorie : Jewish Voice for Peace
Haaretz, 07/01/2018
Members of Jewish Voice for Peace protest in Washington, on July 21, 2014 Atheer Ahmed Kakan / Anadolu Age
The left-wing organization Jewish Voice for Peace has been placed on a BDS blacklist being compiled by Israel, the Strategic Affairs Ministry confirmed on Saturday, following a report by the Israel Television News Company.
Lire la suite : Israel Says Jewish Voice for Peace on BDS Blacklist, Activists Will Not Be Allowed Entry
Détails

Écrit par

Michael Lesher

Catégorie : Jewish Voice for Peace
Chronique de Palestine, 03 octobre 2016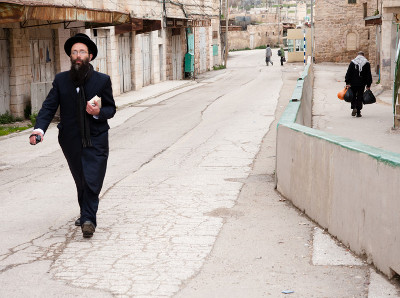 Un Palestinien et un colon israélien marchent chacun d'un côté d'une barrière en béton dans la ville de Hébron - Février 2012, Cisjordanie occupée occupée - Photo : Ryan Rodrick Beiler ActiveStills
quand avons nous entendu pour la dernière fois les principaux rabbins orthodoxes d'Israël – ou d'ailleurs en l'occurrence – protester contre le vol systématique des biens d'autres personnes ? C'est à dire, contre l'occupation de la Cisjordanie ?
Détails

Écrit par

NENA-NEWS

Catégorie : Jewish Voice for Peace
25/7/2017
Cinque membri dell'organizzazione statunitense (tra cui la rabbina Alissa Wise) denunciano di non essere potuti salire ieri a bordo di un aereo Lufthansa diretto a Tel Aviv perché promotori della campagna internazionale per il boicottaggio dello stato ebraico
Roma, 25 luglio 2017, Nena News – Non sono stati fatti salire sull'aereo che da Washington li avrebbe dovuti portare in Israele perché sostenitori della campagna Bds. È quanto ieri hanno denunciato cinque membri del gruppo Jewish Voice for Peace (JVP), un'organizzazione statunitense che promuove i diritti umani per i palestinesi. I cinque (tra i quali una rabbina, due pacifisti presbiteriani e un esponente dei Musulmani americani per la Palestina di Los Angeles) stavano viaggiando con una delegazione interconfessionale che avrebbe dovuto incontrare in Israele e Palestina leader religiosi e attivisti dei diritti umani.
Lire la suite : Jewish Voice for Peace: "Ingresso negato in Israele perché sosteniamo il Bds"
Détails

Écrit par

Michael Lesher

Catégorie : Jewish Voice for Peace
The Electronic Intifada, 7 March 2016
Men pray at the Western Wall in the Old City of Jerusalem, September 2009.
Muammar Awad APA images
The Western Wall is, after all, located in East Jerusalem.