Details

Written by

Gilbert Achcar

Category: Europa, USA etc....
Jadalyya, Nov 3, 2017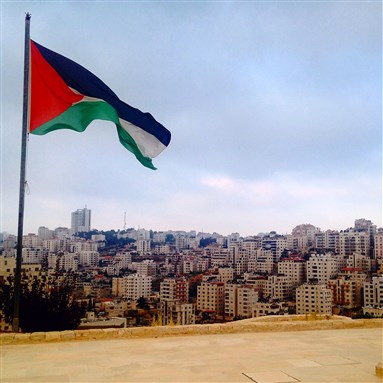 the Zionist project elaborated by Herzl was at its core a design elaborated by an assimilated secular Austrian Jew, aiming at getting rid of poor religious Jews coming from Eastern Europe whose migration to the West had disturbed the existence of their West European co-religionaries. Herzl acknowledged this with striking bluntness in the introduction of his book [....]

Read more: The Zionist Project's Duality: Escaping Racist Oppression and Reproducing It in Colonial Context
Details

Written by

Kaamil Ahmed

Category: Politiche palestinesi
Middle East Eye, 18 January 2018
Activists are often arrested for what they write on Facebook, or even posts they are tagged in
A fifth of Palestinians, including those with Israeli citizenship, have been arrested or investigated by either Israeli or Palestinian authorities for sharing their opinions online, according to results of a poll published by 7amleh in 2017.

Read more: Palestinian activists crushed online by the PA, Israel and Hamas
Details

Written by

Middle East Monitor

Category: Politiche israeliane
January 16, 2018

Israeli Education Minister, Naftali Bennett [World Trade Organization/Flickr]
Israeli education minister Naftali Bennett has declared that the "era of the Palestinian state" is over, renewing calls for the annexation of land in the occupied West Bank, reported Arutz Sheva.
Read more: Israel minister: Era of Palestinian state is over, era of annexation has begun
Details

Written by

Amira Hass

Category: Opposizione israeliana
Haaretz, Jan 16, 2017
When Israeli officers sanctimoniously warn that 95 percent of Gazas water is unfit to drink, they ignore the original absurdity: Israel forces Gaza to make do with water from the aquifer located within its borders. This aquifer, which supplied water to some 300,000 people in 1950, is now supposed to supply the same amount to two million people. Its no wonder theres overpumping and contamination by sewage and seawater.

Read more: Gaza's prison warden and the Strip's ever-rising collapse threshold
Details

Written by

Lisa Richlen

Category: Opposizione israeliana
Haaretz, Jan 17, 2018
His death represents a saving of $8500 to the Israeli taxpayer ($5000 to Rwanda for agreeing to take him and $3500 cash in hand for agreeing to leave). One down, 37,699 to go.

Read more: Wadjungah Mohammed is one African refugee Israel can't deport by force. He just killed himself
Subcategories