Details

Written by

Jonathan Cook

Category: Gerusalemme
Middle East Eye, 9 April 2016
Areas like Sawaneh, said Halper, were also the final territorial pieces creating a belt of Jewish control encircling the Old City.

Read more: Israel's 'Bible Trail': Demolishing Palestinian homes to make national parks
Details

Written by

Nur Arafeh

Category: Gerusalemme
Jews for Justice for Palestinians, January 15th, 2017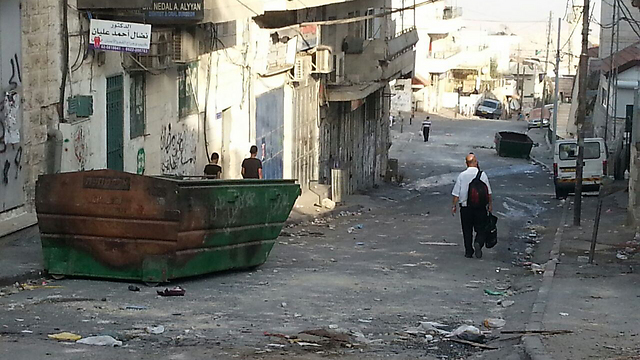 The poverty rate among the East Jerusalem Arab population is about 80%. But West Jerusalem could not survive without this supply of cheap Palestinian labour. Photo by Mohammed Shinawi

Economic Collapse in East Jerusalem: Strategies for Recovery

Al Shabaka
November 30, 2016
[...] This brief by Al-Shabaka Policy Fellow Nur Arafeh focuses on Israel's deliberately engineered economic collapse of East Jerusalem, which renders the city essentially unlivable for Palestinians so as to ensure Jewish control over it [....]
Details

Written by

Nir Hasson

Category: Gerusalemme
Haaretz, Apr. 04, 2016
The official map the Tourism Ministry distributes to those visiting Jerusalem's Old City highlights one Muslim site and five Christian sites – as well as dozens of synagogues, yeshivas and Jewish-owned buildings, many of which local tour guides have never heard of.
Read more: Official map of Jerusalem's Old City omits key non-Jewish sites
Details

Written by

B'Tselem

Category: Gerusalemme
11 Dec 2016

Security guards escorts settler children through the neighborhood. Photo by Sarit Michaeli, B'Tselem, 6 Dec. 2016
The settlement in Batan al-Hawa, advanced by Ateret Cohanim, is part and parcel of the efforts made by the authorities and settler associations to increase and cement Jewish presence in Jerusalem's Old City Basin: in the Old City's Muslim Quarter and the Palestinian neighborhoods that surround it.

Read more: Batan al-Hawa neighborhood, Silwan: The next target for "Judaization" of E. J'alem
Details

Written by

Gideon Levy

Category: Gerusalemme
Haaretz, Jun. 5, 2016
A poor city, filthy and neglected, which secular Jews leave as fast as they can, which the Palestinians cling to with all their meager strength and which religious, chauvinistic, extremist Jews have long taken over. It's a city that sends its settler metastases into every Palestinian neighborhood, merely to bring misery, to dispossess, to oppress and to evict. And all this is done under the auspices of the authorities, including the judiciary, Israel's most enlightened authority.